Aura Curve Flat Panel Towel Warmers
Aura Curve Designer Flat Panel Towel Warmers. In Chrome, Ice White, Lava Grey & Beach Colours. These Heated Towel Rails are for Central Heating, Electric and Dual Fuel Connection. We also have Thermostatic Electric models with a Built-In Timer. Small, Medium & Large Sizes available. A modern, designer feature for Kitchens and Bathrooms. This heated towel rail can heat the room as a bathroom radiator as well as dry towels. Buy Online From Solaire Quartz, UK. 10 Year Guarantee – 30 Day Returns Policy.
The Aura Curved Designer Flat Panel Heated Towel Rail has extra-wide horizontal bars, increasing the heat flow, which makes it faster to dry towels. These heated towel rails have been carefully selected for sale in Solaire Quartz's online shop and are proven to be long-lasting with durable finish. Ideal for room spaces such as kitchen, bathroom, wet room, shower room, cloakroom, wet room, static caravan, & hotel.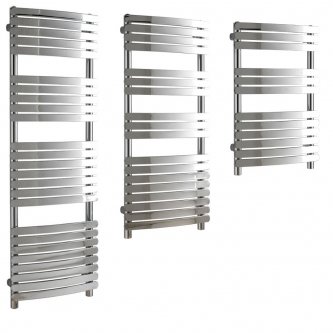 Quality Assurance
Our heated towel radiators for central heating meet the British Safety Standard for Radiators (BS EN 442), and have passed the Standard Practise For Operating Salt Spray (ASTM B117).
Aura Curve Heated Towel Rail – Connection Types
Central Heating – connects to gas central heating via radiators valves (available in the accessories section of our online shop)
Electric – prefilled with glycol (anti-corrosion liquid) and sealed. Installed with a PTC electric element which regulates at a set temperature. Splash proof / IP67 rated.
Thermostatic Electric – the heated towel rail is prefilled with glycol and supplied with a thermostatic electric element, which requires installation on assembly (using our easy instructions). The element has a 24 hour 7 day timer and remote control, is LOT 20 / ErP compliant.
Dual Fuel – supplied with a PTC electric element and radiator valves. Can be operated by central heating or mains electric.
Dual Fuel Thermostatic – supplied with a thermostatic electric element and radiator valves.
Timer options – our electric or dual fuel towel warmers can be paired with our PR-1 Wireless Timer / Room Thermostat or the TimeGuard FST77A Fused Spur Timer. Both options are available to buy in this category.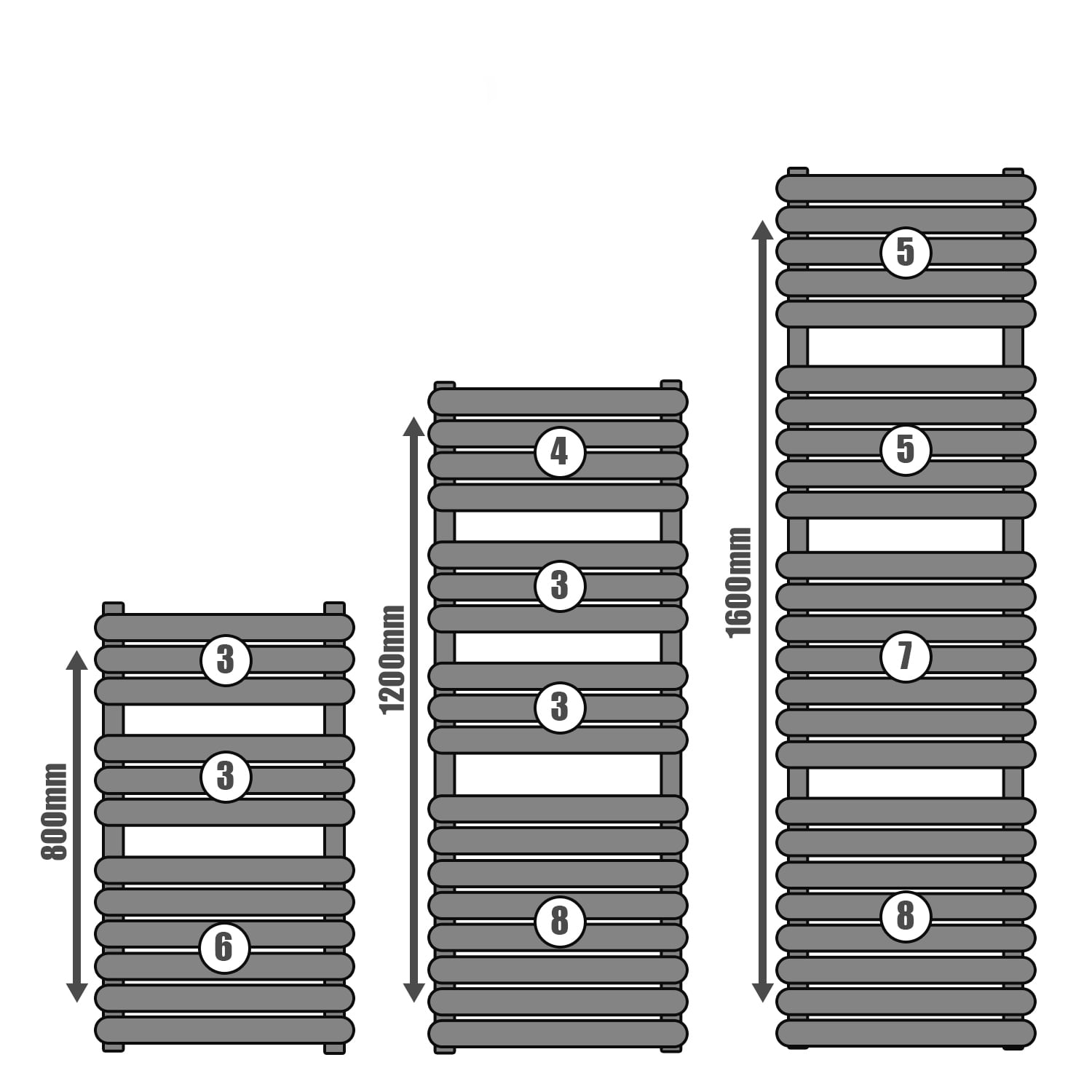 Bar Patterns
The bar pattern is the grouping of bars between gaps in the towel rail.
BAR PATTERNS can be seen in the supporting images for this listing.
800 mm high – 3 3 6 Bars (from top)
1200 mm high – 4 3 3 8 Bars (from top)
1600 mm high – 5 6 7 8 Bars (from top)