Description
Gnosjo APO Oil Filled Electric Radiator, Wall Mounted / Portable
An economic and efficient electric heater. Filled with thermodynamic gel / oil to heat the radiator surface rapidly and evenly. The gel maintains heat for a period after the thermostat is turned off, reducing the use of electricity and saving you more money. The electronic thermostat maintains a low surface temperature by switching the heater on and off rapidly, providing only as much energy as is required, to preserve the desired temperature, is supplied to the heater.
A quality electric wall heater, made in Europe by industry-leading Norwegian manufacturer Adax.
Built to high standards with a long 5 year guarantee.
30 day returns policy for peace of mind.
Silent, economic & efficient electric wall heater.
Slimline / slim, central heating-style panel design.
Ideal electric heater for Home, Office, Bedroom, Lounge, Dining Room, Conservatory, Caravan, Outbuilding, Shed, Rural Buildings.
Doesn't burn oxygen or dust. Ideal for allergy or asthma sufferers. Uses radiant heating.
Electronic Thermostat, On/Off switch, Overheat Protection.
Lot 20 / ErP compliant. Saving energy consumption by up to 20% over similar heaters.
The precision electric thermostat and room sensors are recognise the slightest drop in the temperature and adjust the heater accordingly, maintaining a comfortable room temperature.
Open Window Detection- The heater detects a sudden reduction in the room temperature caused by an open window. Then temporarily stops heating, so no energy is being wasted and resumes after a short while.
Countdown time settings. For 1 week Imitate the times when you want the radiator on and off and the heater will repeat afterwards.
Supplied with Leg Brackets for portable use and wall mounting brackets (fixing kit included) – easy to install.
Clearance space required: Below heater: 50mm. Above heater: 150mm
1.2m power cable – exits the electric heater from the rear right.
Mains Plug NOT Fitted.
Mains Voltage: 220-240V / 50Hz
2 year guarantee.
Please note:  This heater is Horizontal mount only.
Download Gnosjo APO / ALO Manual
Dimensions / Power Outputs
| | | | | |
| --- | --- | --- | --- | --- |
| Model | Power (Watts) | Dimensions H x W x D (mm) | Room Size Heated(m2) | Weight (Kg) |
| APO 035 | 350 | 600 x 600x 90 | 4.25 | 10 |
| APO 070 | 700 | 600 x 900 x 90 | 8.75 | 13 |
| APO 100 | 1000 | 600 x 1140 x 90 | 12.5 | 16 |
| APO 125 | 1250 | 600 x 1380 x 90 | 15.5 | 19 |
Work out your room heating requirement in Watts here.
Gnosjo APO Oil Filled Electric Radiator, Wall Mounted / Portable (Product Summary)
Gnosjo APO Oil Filled Electric Radiator, wall mounted or portable – available to buy online from Solaire Quartz's UK Shop. This oil-filled electric heater has a traditional panel radiator style to suit most interiors. It is finished in glossy white and will complement existing central heating radiators. The APO electric panel heater is economic and efficient.  The mineral oil retains heat, increasing the time between the thermostat switching on/off, maintaining an even warmth to the room.  Features include a built-in electronic thermostat, on/off switch , overheat protection, IP20 rated (not suitable for bathrooms), anti-asthma/allergy, 1.2m cable (no plug attached).  The power cable exits from the right hand side.  The APO is ideal for heating room spaces such as home, office, bedroom, lounge, dining room, conservatory, caravan, hotel, shed, outbuilding and extensions.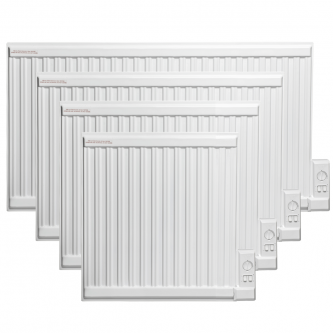 The Gnosjo APO oil-filled electric heater is supplied with portable leg brackets and a simple, easy to install wall-mounting bracket system. Features such as Open Window Detection & Countdown Time Setting. make this panel heater Lot 20 / ErP compliant. This saves energy consumption by up to 20% over similar heaters. A 2 Year Guarantee is provided.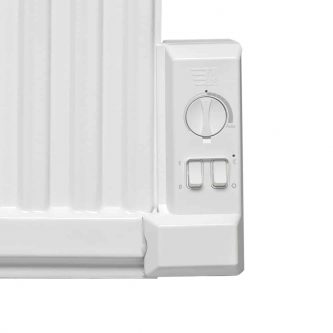 Image: Control panel: featuring an on/off button, thermostat to adjust heat and night-time temperature reduction switch (reduces temperature by 4 degress celsius).
Gnosjo APO Oil Filled Electric Radiator Dimensions: Height (all models) 600mm. Wall Projection = 90mm. Available power outputs / room size heated / width: 350W – 4.25m2 – 600mm. 700W – 8.75m2 – 900mm. 1000W – 12.5m2 – 1140mm. 1250W – 15.5m2 – 1380mm.
Size range: Small / Compact, Medium / Regular, Wide / Large / Long.