Description
The Solaire Reno WIFI Smart Electric Radiator is a simple solution for home automation heating. This compact, wall mounted or portable electric panel heater works via the IQ APP, and gives you full WIFI control over your heaters from anywhere in the world, using a smart phone or tablet. Available in two colours (White or Black Glass), this stylish, modern heater is ideal for home, office and conservatory room spaces. The Reno has a smooth, tempered glass front, easy to clean, with a control panel featuring a blue LCD temperature display. Additionally, the 2000W power output can heat room spaces of up to 25m2 (metres squared). Furthermore, energy-saving features built-in to the Reno include include a programmable 24 hour, 7 day timer and sensitive room thermostat. They ensure that it is fully LOT 20 / ErP compliant, making it as economic as possible to run.
Smart Home Automation: Complete 24 hour, 7 Day Timer & Room Temperature Control via Android / iOS Smart Phone App
Energy Efficient: Sensitive Room Temperature Thermostat – Compliant with LOT 20 / ErP regulations
LCD Display for Manual Control and Override
Ideal for Hall, Lounge, Dining Room, Bedroom, Conservatory, Outbuilding, Caravan areas.
WALL MOUNTED OR PORTABLE – Legs and Wall Brackets are supplied.
Supports Amazon Alexa, Apple Siri and Google Voice Assistants.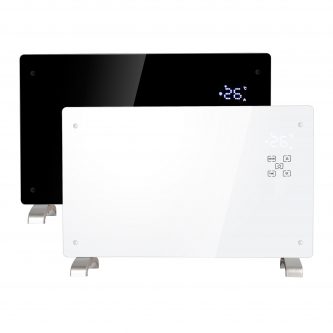 Smartphone App For WIFI Controlled Heating
The Solaire IQ APP lets you to control your heating with a swipe of a finger. As long as you have an internet connection you have access to your heater. Never leave the heating on or come back to a cold house again. Simply set your desired temperature and let the heater handle the rest. With ET thermostat the RENO precisely monitors the room temperature, adding more heat at the slightest drop in temperature. Keeping your environment warm and cosy.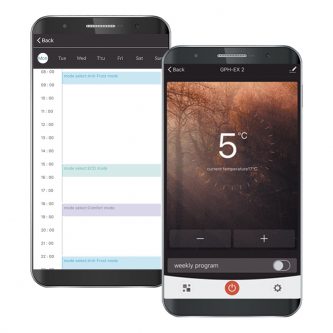 Control all your heating from anywhere
Group multiple heaters and control simultaneously
Set a 7 day 24 hour timer programme
3 heating modes (Comfort, ECO, and Anti – Frost)
Quick and easy override can be made to the heating programme
Share devices with other users
App is a free download. Available in IOS, Android Stores
To connect your panel heaters, you may have to switch your router to 2.4 GHz.
When the connection is complete, simply switch back to 5 GHz, if you wish
Solaire Reno WIFI Glass Smart Electric Radiator – Product Specifications
| | | | | |
| --- | --- | --- | --- | --- |
| Model | Power, W | Dimensions, mm | Heated Space, m2 | Weight, kg |
| REN20W (White) | 2000 | 470 x 780 x 100 | 25 | 12 |
| REN20B (Black) | 2000 | 470 x 780 x 100 | 25 | 12 |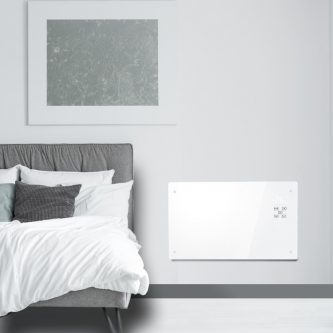 Efficient, Effective Heating
The compact RENO Wifi Panel Heater provides instantaneous heat, warming your room faster than ever before. With the additional benefit of being more controllable than oil filled radiators. The RENO is a modern and energy efficient heating solution.
The Reno's efficient " " shaped heating element increases surface area, while the highly conductive materials maximise the heat produced. Ensuring your living environment remains your desired temperature, improving efficiency and lowering energy costs*. One Reno is powerful enough to heat upto a 25m2 room
The heater uses natural convection to circulate the hot air produced throughout the room. Removing the need for a fan, the heater is quiet in its operations and produces no turbulent air.
Simple Controls
Installing your Reno is fast and easy task. The simple bracket system and lightweight body make our electric panel heaters a handy alternative to central heating radiators. Simply wall mount, plug in and enjoy.
The heater can also be operated without WiFi. Located on the unit is a manual touch pad where so that the thermostat can be adjusted. Also supplied is an IR remote. Ideal if there is not the option to connect to the internet.
The heater's programme schedule can only be accessed via the WiFi APP.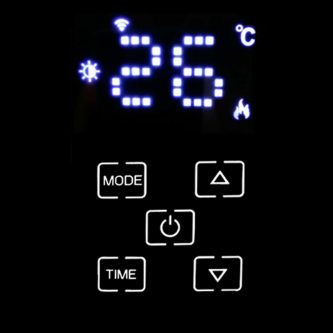 The Reno is supplied with wall mounting brackets and portable leg stands.
A 3 pin UK plug is attached, simply plug in and relax. If you wish to hard wire the heater, the plug can be cut without affecting the guarantee.
PLEASE NOTE:
This heater can only be mounted horizontally
The cable exits the rear right hand side of the heater
Cable length as follows: 1.2m, plug fitted.