Description
Tesy CN04 Wifi Smart Electric Panel Heater With Timer, Splash Proof (Detailed Product Specification)
CONTROL YOUR ELECTRIC HEATERS AT HOME OR AWAY USING SMARTPHONE / TABLET (ANDROID / IOS).
IDEAL FOR ANY ROOM INCLUDING BATHROOMS & KITCHENS – IT IS SPLASH PROOF / IP24 RATED.
LOT 20 / ErP COMPLIANT – MEETS NEW 2018 REGULATIONS FOR ENERGY EFFICIENCY.
The Tesy CN04 Wifi Smart Electric Heater has a front vent design for maximum directional output. This heater is smartphone controlled, offering home automation electric heating. You can turn the heater on / off and program the timer and thermostat from home or away. Monitor energy usage and group heaters together into zones around the house. It uses convection heating to warm a room, whereby air flows into the bottom vent, is heated by an element and rapidly circulates through the room via the top vent. Features: IP24 rated (splash proof, suitable for bathrooms and kitchens). Front-mounted LED temperature display. Built-in 24 hour 7 day timer. Room temperature thermostat (12-30C with anti-frost stat set to 5C). Delay start/ stop function – 96 hours, Sleep function, Open Window Recognition, Overheat Protection, Child lock / Tamper Proof. Control by Smartphone (Apple iOS, Android) or via the control panel on the heater.
This smart electric panel heater is ideal for heating room spaces such as home, office, bedroom, bathroom, kitchen, lounge, dining room, conservatory, caravan, hotel, shed, outbuilding, extensions. The Tesy CN04 Wifi is Lot 20 / ErP compliant making it economic and energy efficient. Supplied with a 5 Year Guarantee.
Power Output Options:
500W / 500 Watt (for heating a 6m2 room space)
1000W / 1000 Watt / 1 Kilowatt kW (for heating a 12m2 room space)
1500W / 1500 Watt / 1.5 Kilowatt kW (for heating a 18m2 room space)
2000W 2000 Watt / 2 Kilowatt kW (for heating a 24m2 room space)
2500W / 2500 Watt / 2.4 Kilowatt kW (for heating a 28m2 room space)
A quality electric wall heater.
Built to high standards with a long 5 year guarantee.
Delivery is free to most UK areas (see exceptions below), with fast shipping from our UK warehouse.
30 day returns policy for peace of mind.
Smart Home Automation: Complete 24×7 Time & Room Temperature Control via Android / iOS Smart Phone App
Pair Multiple Heaters to work together via Zoning, or set all rooms to have their own times & temperatures.
Energy Efficient, Open Window Recognition, Sensitive Room Temperature Thermostat – Compliant with ERP Lot20 regulations.
Silent, economic & efficient electric wall heater (also known as a panel heater, electric radiator, convection heater or convector radiator).
Slimline, flat panel design with a front vent. Ideal electric heater for Home, Bathroom, Kitchen, Office, Bedroom, Conservatory, Caravan, Outbuilding, Shed, Rural Buildings.
Front-Mounted LED display indicating desired and actual room temperature
Sensitive (accurate to 0.1C) Room Temperature Thermostat 10-30C with Anti-frost stat set to 5C
Wall Mounted Electric Heater with Front Grille Design for Maximum Directional Output
Delay start/ stop function – 96 hours, Sleep function, Open Window Recognition, Overheat Protection, Tamper Proof
Class II Product, IP24 Bathroom-Rated (Splashproof)
Doesn't burn oxygen or dust. Ideal for allergy or asthma sufferers. Uses convection heating – no moving fan to blow out particles.
Mains plug fitted. Simple wall mounting brackets – easy to install.ht
Mains Voltage: 230V / 50Hz
Image: Tesy control panel (situated on the top right of the heater)
Please note:
This heater is Horizontal mount only.
The cable exits to the rear right hand side of the heater.
A wall fixing kit is included.
Cable length is as follows: 1.5m, UK plug attached.
User Manual
Download Tesy CN04 User Manual
Tesy CN04 – WIFI Version Programming Instructions
Product Specifications & Dimensions – Tesy CN04 Wifi
| | | | | |
| --- | --- | --- | --- | --- |
| Model | Power (Watts) | Dimensions H x W x D (mm) | Room Size Heated(m2) | Weight (Kg) |
| TESY CN04050WIFI | 500 | 450 x 490 x 80 | 6 | 2.8 |
| TESY CN04100WIFI | 1000 | 450 x 610 x 80 | 12 | 3.3 |
| TESY CN04150WIFI | 1500 | 450 x 680 x 80 | 18 | 3.7 |
| TESY CN04200WIFI | 2000 | 450 x 890 x 80 | 24 | 4.2 |
| TESY CN04250WIFI | 2500 | 450 x 1060 x 80 | 28 | 5 |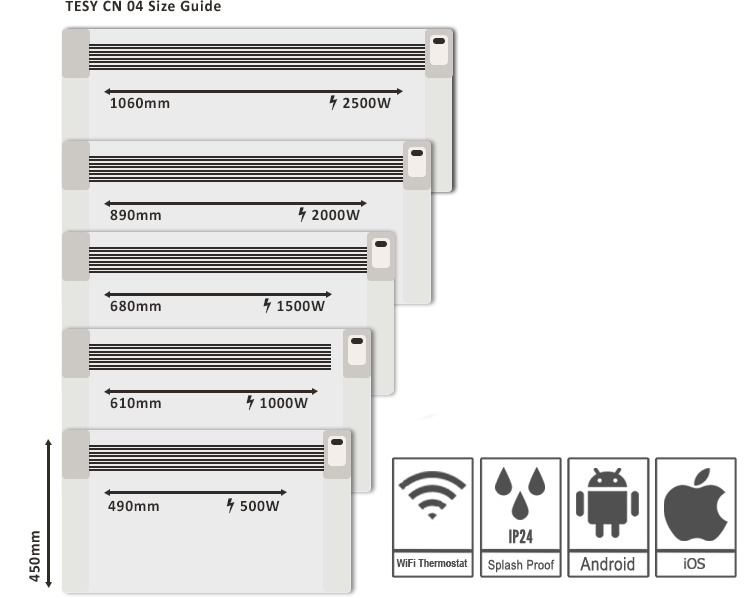 Work out your room heating requirement in Watts here.
Back to Solaire Quartz Home Page
Tesy CN04 Wifi Smart Electric Heater With Timer – Dimensions: Height: 450mm. Wall Projection: 80mm. Available power outputs / room size heated / Width: 500W – 6.25m2 – 490mm. 1000W – 12.5m2 – 610mm. 1500W – 18.75m2 – 680mm. 2000W – 25m2 – 890mm. 2500W – 31.25m – 1060mm. Size range: Small / Compact / Narrow, Medium / Regular.