Oil Filled Electric Radiators
Solaire Quartz sell Oil Filled Electric Radiators. We have a good selection of these economic and efficient heaters available to buy online. When they heat up, the oil preserves the heat so that there are longer times between the thermostat switching back on again, saving electricity and reducing your heating bills. They project radiant heat to warm a room, are silent and do not circulate dust – making them a great choice for allergy sufferers.
Gnosjo APO / ALO Oil Filled Electric Radiator, Wall Mounted / Portable.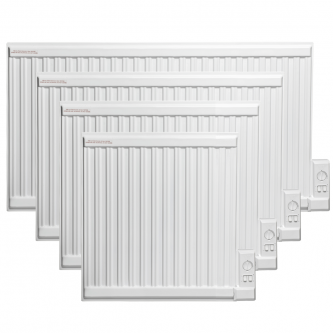 Style / Type: traditional, panel. Colour: white. Economic, efficient, long-lasting with durable finish. Features: Electronic thermostat, on/off switch, overheat protection, IP20 (not suitable for bathrooms), anti-asthma/allergy, 1.2m cable (no plug attached), power cable exits right hand side. Ideal for heating room spaces such as home, office, bedroom, lounge, dining room, conservatory, caravan, hotel, shed, outbuilding, extensions.
Height (APO models) 600mm. Wall Projection = 90mm. Available power outputs / room size heated / width: 350W – 4.25m2 – 600mm. 700W – 8.75m2 – 900mm. 1000W – 12.5m2 – 1140mm. 1250W – 15.5m2 – 1380mm. Height (ALO models) 300mm. Wall Projection = 90mm. Available power outputs / room size heated / width: 400W – 5m2 – 900mm. 600W – 7.5m2 – 1140mm. 800W – 10m2 – 1380mm.
Size range: Small / Compact, Medium / Regular, Wide / Large / Long. Comes with simple, easy to install wall-mounting bracket system. Open Window Detection and Countdown Time Setting. Lot 20 / ErP compliant. Saving energy consumption by up to 20% over similar heaters. 5 Year Guarantee.
Aura Astra Oil-Filled Electric Radiator – Wall Mounted Or Portable.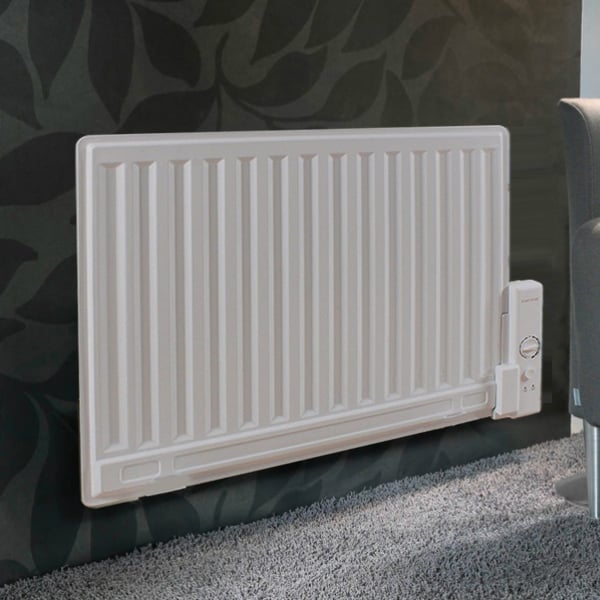 The Aura Astra is a traditional style oil-filled electric heater. Only 60mm to the front of the heater from the wall when installed. Very easy to install with a well thought out bracket system. Also supplied with leg brackets, to make it a portable heater. 3 pin UK plug fitted. Dimensions: 590mm Height. Mechanical thermostat and on/off controls on all versions. The cable is approximately 1.2m in length and exits the rear right hand side of the heater. Supplied with a 2 year manufacturers guarantee.
Dimensions (in mm): 600W – 790 X 590 X 208. 1000W – 1200 x 590 X 208 .