Description
---

Energy efficient.
Stylish heating.    
Looking for a stylish and unobtrusive way to heat your home? The Adax Neo electric panel heater provides this and more. The standard Neo is 370mm in height and has a slimline depth of 90mm when wall-mounted.
With a flat front panel, discreet LCD display and slimline design, the Neo has established a reputation as one of the best looking panel heaters on the market. To suit a range of interiors, there are two colour options to choose from: white and lava grey.Add product gallery images
The Adax Neo convector heater comes in 600w, 800w, 1000w, 1200w, 1400w & 2000w power outputs and a single unit can heat small – large room sizes. Additional heaters can be added for larger spaces according to requirements.
Included in the design are energy-saving features which make the heater fully ERP Lot 20 compliant. These features include a timer, digital thermostat, open window detection and adaptive start.  Consequently the Neo is more economic and efficient to run (up to 20% less than a basic electric heater). Furthermore, the safety features include an anti-tamper lock and overheat protection.
The Adax Neo is an award-winning electric radiator due to its exceptional design, high build-quality and reliability. It is backed by a market-leading 5 year warranty which covers the panel work and electronics. For comparison, most heaters will only come with a 2 year warranty on the electronics.
Stock on this product is selling fast but new deliveries are arriving every week – backorder or check back with us if your preferred size is not available today; it will be back soon
---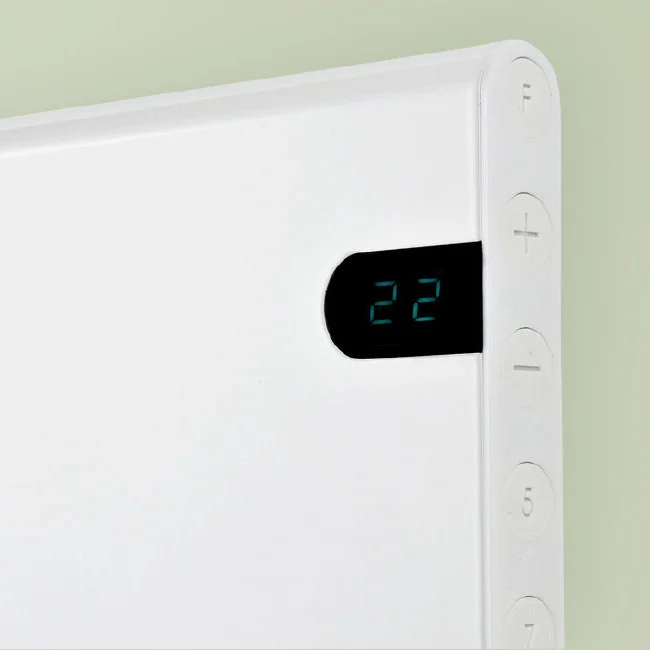 Thermostat
Control.
The Neo's sleek design creates a clean aesthetic from all angles. The controls are user friendly, allowing you to easily change the temperature with a push of a button.
To keep your room comfortable, the Neo uses a digital thermostat. This will precisely monitor the room and actively respond to changes in temperature, switching the heater on and off when its needed. This saves electricity and reduces running costs.
Adax's X-fin heating element uses natural convection to heat the room. The heater has no moving parts and is silent when heating. The aluminium element in the base of the unit warms air, which flows into the bottom and out of the top vent, circulating evenly by convection throughout the room. There is no fan, so dust and particles are not blown around the room. By maintaining the air quality it is well suited for people with allergies.
---
Intelligent 
Timer.
Rather than leaving the heater on constantly, the Neo Portable can be programmed around your schedule with the built-in timer. The timer allows for 24 hour 7 day programming, reducing energy consumption and running costs.
The Adax Neo has a smart learning programme called "Adaptive start". This will calculate the optimum time to start heating. For example, if programmed for heating at 6:00am, the heater may start at 5:30am to get the room to the optimum temperature by 6:00am. Doing this takes the guesswork out of programming the timer, so the room is warm exactly when its needed. It also has open window detection, which will recognise when you're trying too cool the room down, for example by opening a window.  It will detect the drop in temperature and temporarily switch the heater off.
By incorporating these energy saving features into the design, the Adax Neo is fully compliant with ECO design ERP Lot 20 regulations.
---

Quality Assured
Adax is a long-established manufacturer of heaters, founded in 1948. Their products are still made in Europe and adhere to the highest quality standards. This has made Adax a favourite of building developers and contractors, with large quantities being installed in properties and developments across the UK and Europe.
Most heaters on the market offer a seemingly long guarantee but only cover the electronics for 2 years. However, Adax offer an intrinsic 5 year guarantee covering body work and electronics as well as meeting all necessary EU and UK approvals for safety.
The heater is supplied with a UK plug fitted and a wall mounting kit (including the wall bracket). Also supplied in the box is a mounting template and instructions. The heater is easy to install if you have basic DIY skills.
If you wish to hard wire the heater, the plug can be cut without affecting the guarantee.
If you have any questions about this product, please feel free to contact one of our team!
---
| | | | | |
| --- | --- | --- | --- | --- |
| Model | Power, W | Dimensions, mm | Heated Space, m2 | Weight, kg |
| Adax NEO NP 04 KDT | 400 | 370 x 474 x 90 | 6 | 4 |
| Adax NEO NP 06 KDT | 600 | 370 x 589 x 90 | 7.5 | 4 |
| Adax NEO NP 08 KDT | 800 | 370 x 704 x 90 | 10 | 4.7 |
| Adax NEO NP 10 KDT | 1000 | 370 x 762 x 90 | 12.5 | 5 |
| Adax NEO NP 12 KDT | 1200 | 370 x 934 x 90 | 15 | 6 |
| Adax NEO NP 14 KDT | 1400 | 370 x 1042 x 90 | 17.5 | 6.5 |
| Adax NEO NP 20 KDT | 2000 | 370 x 1394 x 90 | 25 | 8.5 |
*in comparison to products with a mechanical Bimetal thermoregulator
Heated space figures are an estimate. More power may be required in rooms with high heat loss.