Description
Adax Neo Wifi Low Profile Electric Wall Heater With Timer, Modern
CONTROL YOUR ELECTRIC HEATERS AT HOME OR AWAY USING SMARTPHONE / TABLET / PC (ANDROID / IOS / WINDOWS MOBILE).
IDEAL FOR ANY ROOM INCLUDING BATHROOMS & KITCHENS – IT IS SPLASH PROOF / IP24 RATED .
LOT 20 / ErP COMPLIANT – MEETS NEW 2018 REGULATIONS FOR ENERGY EFFICIENCY.
The Adax Neo Wifi (low profile / skirting version – 210mm height) is our best selling electric heater. It's stylish looks and useful features are backed by excellent Norwegian design standards. This electric heater is made in Europe and comes with a 5 year guarantee and has a 30 day returns policy for peace of mind.
We sell the Adax Neo Electric Heater in the following power outputs:
600W (for heating a 7.5m2 room space)
800W (for heating a 10m2 room space)
1000W (for heating a 12.5m2 room space)
1200W (for heating a 15m2 room space)
1400W (for heating a 17.5m2 room space)
There are two colour options – white and lava grey.
Home automation heating: offers complete control of heating times and temperatures with daily / weekly programming. Group multiple Adax Neo WIFI heaters together to create room heating zones. All controlled wirelessly by smartphone, tablet or windows 10 pc – at home or away.
A quality electric wall heater, made in Europe by industry-leading Norwegian manufacturer Adax.
Built to high standards with a long 5 year guarantee.
Delivery is free to most UK areas (see exceptions below), with fast shipping from our UK warehouse.
30 day returns policy for peace of mind.
Silent, economic & efficient electric wall heater (also known as a panel heater, electric radiator, convection heater or convector radiator).
Slimline, flat panel design with rounded edges. Modern, stylish and contemporary.
Ideal electric heater for Home, Bathroom, Kitchen, Office, Bedroom, Conservatory, Caravan, Outbuilding, Shed, Rural Buildings.
Specially-treated aluminium alloy electric element provides rapid room heating.
Doesn't burn oxygen or dust. Ideal for allergy or asthma sufferers. Uses convection heating – no moving fan to blow out particles.
Digital thermostat with temperature LCD display. Controls situated on top / rear. Power button on right hand side.
Mains plug fitted. Simple wall mounting brackets – easy to install.
Clearance space required: Below panel heater: 50mm. Above panel heater: 150mm
1.2m power cable – exits the electric heater from the rear right
Mains Voltage: 220-240V / 50Hz
The Adax Neo Electric Wall Heater With Timer (Low Profile) is available in a range of sizes and colours. We also sell the Adax Leg Brackets, which make this heater portable.
Please note:
This heater is Horizontal mount only.
The cable exits to the rear right hand side of the heater.
A wall fixing kit is included.
Cable length is as follows: 1.2m, UK plug attached.
Download Progammable WIFI Thermostat Instructions
Download Home Automation / Smart Heating Instructions
Product Specifications & Dimensions: Adax Neo Wifi Low Profile
| | | | | |
| --- | --- | --- | --- | --- |
| Model | Power (Watts) | Dimensions H x W x D (mm) | Room Size Heated(m2) | Weight (Kg) |
| ADAX NEOL04KWT | 400 | 210 x 783 x 87 | 6 | 4 |
| ADAX NEOL06KWT | 600 | 210 x 1005 x 87 | 7.5 | 4 |
| ADAX NEOL08KWT | 800 | 210 x 1186 x 87 | 10 | 4.7 |
| ADAX NEOL10KWT | 1000 | 210 x 1380 x 87 | 12.5 | 5 |
| ADAX NEOL12KWT | 1200 | 210 x 1548 x 87 | 15 | 6 |
| ADAX NEOL14KWT | 1400 | 210 x 1760 x 87 | 17.5 | 6.5 |
How to install an Adax Electric Panel Heater
See the easy installation guide by Adax on Youtube:
Back to Solaire Quartz Home Page
Back to Solaire Quartz Home Page
Use our room heating calculator
Adax Neo Wifi Low Profile Electric Wall Heater With Timer, Modern (Product Summary)
Adax Neo Wifi Low Profile Electric Wall Heater / Flat Panel Convector Radiator, Wall Mounted, With Timer. This model is well suited to conservatories, due to the reduced height, suitable for skirting areas. The Adax Neo Wifi is a modern, stylish heater which is made in Europe and comes with a 5 Year Guarantee. Iti offers home automation for your electric heating with its smartphone-controlled features (from home or away), using the Adax Wifi App (for iOS, Android). The Neo Wifi comes with a built-in, fully programmable 24 hour / 7 day timer and digital thermostat. This low profile electric wall heater is splash proof / IP24-rated (suitable for bathrooms and kitchens). Other features: convection heating, LCD temperature display, anti-asthma/allergy, on/off switch, open window recognition, overheat protection, max. surface temperature 75C.ᅠThe Adax Neo is an energy efficient, economic electric heater and is LOT 20 / ErP Compliant.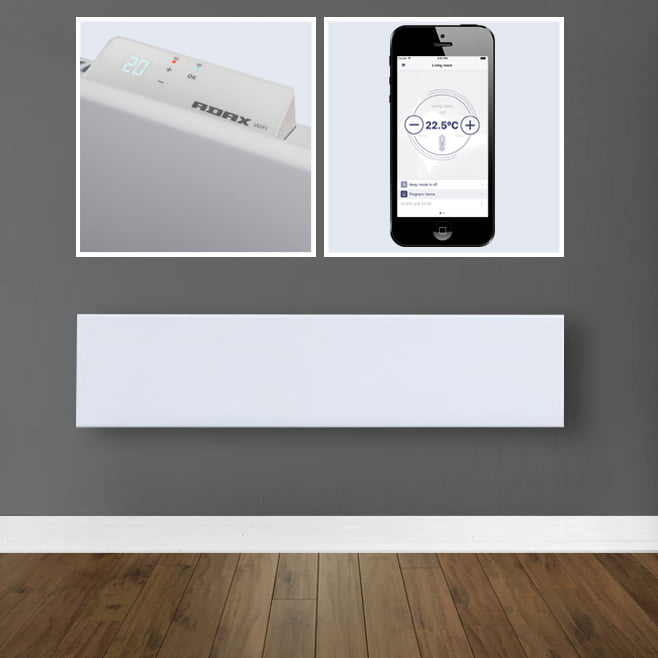 Adax Neo Wifi Low Profile Dimensions: Height (all models) 210mm. Wall Projection = 87mm. Available power outputs / room size heated / width: 400W – 6m2 – 783mm. 600W – 7.5m2 – 1105mm. 800W – 10m2 – 1186mm. 1000W – 12.5m2 – 1380mm. 1200W – 15m2 – 1548mm. 1400W – 1760mm. Size range: Compact / Low, Medium / Regular, Wide / Large / Long.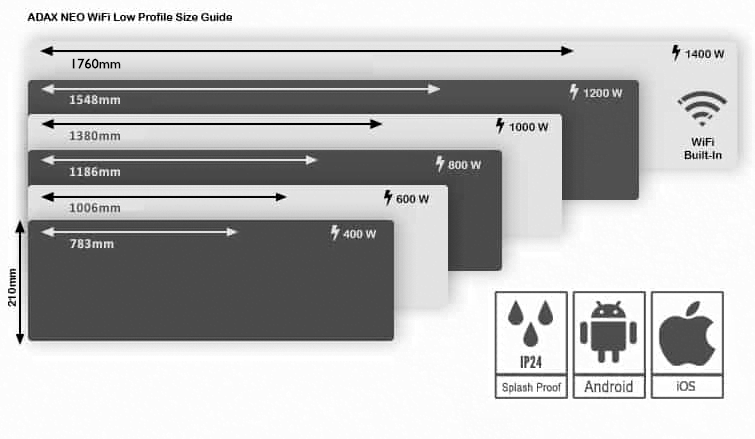 The Adax Neo WIFI low profile smart electric radiator uses the convection process to heat a room. Air is drawn up through the bottom vent, heated with the electric element and rapidly circulated throughout the room through the top vent. It is ideal for heating room spaces such as home, office, bedroom, bathroom, kitchen, lounge, dining room, conservatory, caravan, hotel, shed, outbuildings and extensions. Clearance space required: 50mm below / 150mm above heater. It comes with simple, easy to install wall-mounting bracket system. BUYERS PLEASE NOTE: This heater is horizontal mount only. The cable exits to the right. Cable length: 1.2m, UK plug attached.
Our Adax Neo Skirting Electric Panel Heaters have full Nemko certification. Additionally, they are manufactured in accordance and compliance with ISO 9001 and ISO 14001 standards and come with a 5 year guarantee.