Description
Sol*Aire R3 Thermostatic Electric Element For Towel Warmers, With Timer & Remote
Suitable for converting Heated Towel Rails to be powered by mains electric. Comes with a built-in timer and a remote control.
R3 Thermostatic Electric Element For Towel Warmers, With Timer: This electric element monitors the temperature of the radiator, rather than the room temperature. Not only does this increase the accuracy of the element, but it isolates the radiator form other heat sources, which may otherwise interfere with your towel drying. Simply select the times when you need the element to be on and relax.
Packed with all features that you could ever need. You will be able to use the 7-day hour by hour timer, alongside the adjustable temperature control. All settings are changed by using the infa red remote control.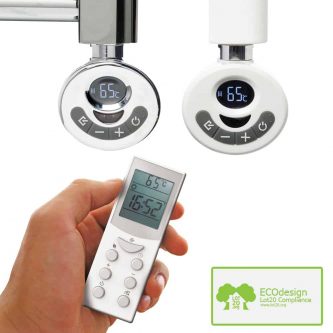 The Sol*Aire R3 Thermostatic Element For Towel Rail is for vertical mounting only.
Lot 20 Compliant – This electronically controlled heating element for the use in liquid filled radiators or towel rails fully complies with the requirements of the regulation 2015/1188 of the EUcommission for the execution of directive 2009/125/EG of the European Parliament (Eco Design Directive) generally with regard to an environmentally sound design of local space heaters – in this case specifically for electrical stationary space heaters.
Please note: You must ensure that you choose the right element power output for your heated towel rail. In our heated towel rail listings, we state suitable elements for each size of model. It is advised that you check with the seller prior to purchasing if you do not know this information.
Product Specifications – R3 Thermostatic Electric Element For Towel Warmers, With Timer & Remote
Style: Remote Control Infrared Timed Thermostatic Electric Heating Element
Easy to install
Splash Proof Rating: IPX4 – Suitable for Bathroom Zone 1 / 2 / 3. Insulation Class 1.
Available in bright chrome or white finish, to match the colour of the towel rail.
Built-in open window/door recognition.
24/7 time control through the easy to use wall mounted remote programmer.
Can be used as a manual unit if the programmer runs low on batteries.
Automatic frost protection.
Connection to Towel Rail: 1/2″ BSP
Power Lead: 1.2m Heat Resistant Cable, No Plug.
Material: Stainless Steel
Measures air temperature from 18C – 32C.
Control water temperature from 30C – 70C.
CE and VDE Approved
Guarantee (electric element): 2 Years
PLEASE NOTE: Cable length is 1.2m. Plug not attached.
Work out your room heating requirement in BTU's or Watts here.